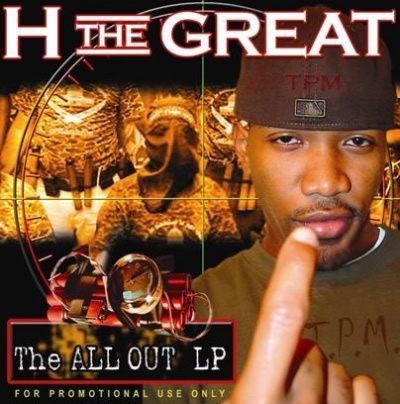 Have you ever been approached by an unknown rapper on the street trying to sell you their music? This is the story of their hustle. I spent some time with a couple of rappers that I met on the streets of New York City, back in 2006, and gained new insight on what they do for a living. It was originally intended for a magazine, but it never got picked up. I love the story so much that I decided to give it new life and repost. Enjoy…
Hustling is not a foreign concept to Hip-Hop culture. Numerous references to the hustle and the struggle by various rappers can be found in almost every lyric on vinyl, disc, MP3s or anywhere Hip-Hop is sold. Some hustles are illegal, others are legit, but the concept surmounts simply being recorded and transcends into real life. H the Great, Marvo (formerly known as Marvalous) and Creature represent that reality.
It's a warm early-autumn day, and the temperature is a comfortable 68 degrees; a motley crew of New Yorkers and tourists mill about SoHo, traveling from one end to another, window-shopping and making purchases. Amidst the shopping and browsing is a secret world hiding in plain site, the Hip-Hop Guys–rappers, stationed throughout New York City trying to get people to stop, listen to and buy their CDs.
"I see them standing outside every time I'm in the village," says Stoney, a New York University student. "The Hip-Hop dudes are always trying to get people to buy their CDs but I usually just keep walking. I don't see how they can do that all day."
Some people oblige, some don't, and others suggest they get a real job, not realizing that these men believe that CD hustlers are the new entrepreneur, or as Creature says, "artistpreneur."
"Check out my music?" H the Great says, extending his CD, "Great Music," to a young stylish woman who continues looking straight ahead, pretending she doesn't hear him.
"Take some Brooklyn home with you. Yo, I'm talking to you," he persists firmly but also half-joking, bits of his Bed-Stuy swag surfacing.
Working what he refers to as "the day shift," he stands in front of The Pottery Barn on the corner of Houston and Lafayette streets. Dressed in a plain white t-shirt and blue jeans, he's been selling his CDs at this location for about an hour.
"I like to work the strip up and down Broadway, between SoHo and NoHo. I was just at Canal Street, in front of YRB for a little while. I was in their magazine last year."
Three passersby have ignored H the Great thus far.
"They not being nice to me today," he says, but he keeps working.
For him, this is an everyday job that pays off.
"The money I make from this allows me to travel, and I meet people like this. I make so many contacts doing this as opposed to just meeting people at open mics and clubs or whatever. They see I'm about my business."
In addition to being featured in YRB, he appeared in a European Volkswagen commercial last year, went on a 25-city U.S. tour with other underground rappers and appeared in Lil' Kim's "Lighters Up" video.
"Now I can add that I'm an actor to my resume," he says.
After more coaxing and posturing, he finally begins to reel people in.
His first customer in that location is a twenty-something man who appears to be Middle Eastern. H the Great, who is Muslim, mutters something in Arabic and the young man gets more interested. Always prepared, H the Great keeps his CD player handy for situations where people want to listen to his music before making a purchase–this being one such case. The young man listens attentively and asks for a price. H The Great usually requests a "donation" of $10, sometimes more or less, depending on the person's generosity and aura, he tells me. In this case, the man donates $5.
"Some is better than none," H The Great says. "You see how I got him though?"
He laughs.
Although H the Great sells his CDs seven days a week, he is also his own publicist, booker, manager, accountant and A&R rep.
"I like this because I'm my own boss. I don't have to switch up my voice, I can wear what I want, I can be myself and I get to travel. You know, I can go anywhere. I just came back from Virginia yesterday. I just take CDs and pay for my way while I'm down there."
His favorite place to sell is New York City, however sometimes territory is an issue. The Virgin Mega Store at Union Square (14th Street) is a popular area where the rules of competition can include more than verbal sales pitches and persuasive bravado. The area sometimes gets cluttered, which occasionally breeds aggressive persuasion tactics for top sales shine.
"Me, personally, I don't be on 14th Street like that because them other cats don't know how to act," he says.
H the Great doesn't go into descriptive detail about why he sometimes avoids Union Square, but Marvo and Creature elaborate. They are selling their CDs on the other side of town, in the West Village. They're working "the night shift" in front of Fat Beats (a premiere Hip-Hop music store in New York) at around 8:00. They each have their own individual projects but they sell their CDs together.
"Fourteenth Street is somebody else's thing during the day and they have a different sales approach than we do. It's a little bit more aggressive."
Creature, deciding that Marvo is being too diplomatic, says, "Let's be honest, they're very barbaric and Neanderthal. I don't know, people have said that they've been extremely aggressive and barbaric in their tactics"
He likens the unspecific measures to those sometimes used by the Neanderthals to the pursuit of the American dream.
"Who am I to say? They said America was built on barbaric tactics. So, I'm not going to say anything, but I don't want to be associated with that kind of behavior."
CLICK HERE for part 2.
Category: Hip-Hop, Interviews, Music
Starrene Rhett Rocque is a recovering journalist who often fantasizes about becoming a shotgun-toting B-movie heroine.