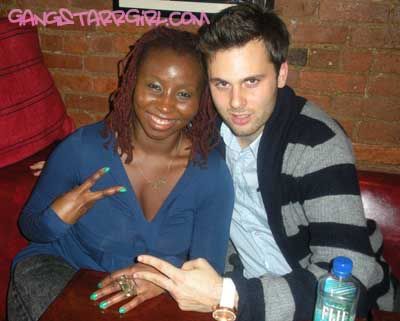 It's human nature to generalize, compartmentalize and label, especially when it comes to music. There's "gangsta" rap, "conscious" rap, "hipster" rap and when it comes white R&B crooners, "blue eyed soul." But what happens when those eyes are hazel green?
I did my research on him before we met but I still didn't know what to expect that early December night when I walked into Earth Matters, an organic market/cafe tucked away on Manhattan's Lower East Side. But there he was, the dark haired olive-skinned white boy who has got to be the love child of Lauryn Hill, Stevie Wonder, Mos Def and Maroon 5. He was laid back, wearing a blue button down shirt topped with a black and gray striped cardigan, gray pants and red and black hi-top Adidas, while eating a veggie burger. So this was Outasight? The man who should now be on every Gangstarr Girl's radar.
Since creating an online buzz with the release of his June LP Radio New York, the Yonkers native has gone on to sign a three album deal with Select Records (in November), and has been featured by premier websites like Okayplayer.com and XXLMag.com. He even beat Jack Bauer (not really but kind of) in a competition where the end result was his video for "Good Evening (Dream Big)" being placed in rotation on MTVU. Everything about him came together as I engaged him in conversation. He's witty, funny, cute, unassuming and smart–everything that is Gangstarr. He chopped it up with me about his burgeoning career, why he likes Gangstarr Girls and how he manages to create his own lane in the world of hip-hop soul.
GG: You dropped radio Radio New York back in June so are you still pushing that?
O: We had to work that for a while. We originally planned to try to do all the promotion at once but it was all spread out. I was a feature artist on MySpace two months after we dropped so we were working that, and the video dropped in October so it was a lot of working the record until now. I just got back in the studio working on my next project, but since the release it's been promotion and just trying to get the name out there and have people hearing the music.
GG: You're talking about the video for "Good Evening" right?
O: Yeah.
GG: Didn't you beat out quite a few people in a competition to get it in rotation on MTVU?
O: [smiles shyly] It was an upset.
S: Don't try to be modest.
O: I won The Freshmen it's a weekly contest [and] it was pretty big. I beat this dope group called HoneyHoney and they're signed to Kieffer Sutherland's label and he was in the video. I remember watching all the videos and I see Keiffer Sutherland(from 24) and I'm like "Damn, how and I supposed to beat Jack Bauer."
S: And you did.
O: Yeah, well, I got great fans, friends and family. So many people hit me up [saying they voted] so I really appreciate that.
GG: Speaking of family, let's talk about your parents–
O: My dad was a musician–well, he still is–but now he just chills. He plays the guitar, he's a rock guy.
GG: Did you ever have jam sessions growing up?
O: No. My dad is real pain in my ass. He's real O.G. about things. He handed me this guitar at age 12 and was like play. I was like you ain't gonna teach me? He was like nah learn it yourself.
GG: So you really just taught yourself? Just like that?
O: I had to. I would only see him on weekends and he wasn't about teaching me how to play.
GG: How about your mom?
O: She loved everything. She was a record collector big time. But for my mom, Stevie Wonder and The Beatles all day.
GG: Do you listen to that too?
O: You know what's crazy? I still actually listen to The Beatles. I was listening to them yesterday–The White Album. I probably started hearing that when I was five so that's like 20 years–that's what you call timeless. That's what I'm trying to be, timeless.
GG: How'd u get into hip-hop?
O: I'm just a music lover. I've been listening to hip-hop for as long as I can remember. I was like 8-years-old and my first CDs were Low End Theory and 3 Feet and Rising.
GG: You're mom bought those for you willingly?
O: Yeah. Columbia House. Remember those? She would have the cardboard cut out and be like pick two and I remembered the "Scenario" video and the "Me Myself and I" video and I was like, those are the ones that I want. So it was a wrap, my first two albums, I ever bought.
GG: So she didn't even trip about hip-hop? Wow, your mom is cool.
O: Yeah.
GG: You're the first person that I've ever interviewed who said their mom–
O: Gave them a Columbia House card?
GG: That, and was cool with hip-hop.
O: I have very young parents. My mom had me when she was like 18. She knows what's going on.
S: Who are some of your favorite rappers?
O: I'm really a Most Def stan…Common, Kweli [and] I'm not gonna lie, even a person like Kanye has inspired my generation of rappers. I was big in the whole Rawkus movement. That's really the type of hip-hop that inspires me.
GG: You're white, you rap you sing–how did people receive you when you were first trying to get your music out there? Were they taken aback?
O: I think that happens a lot of times with people who judge a song on surface value, but I think it works to my advantage because they don't expect what I do. I think once it gets past that it's all good. I mean, it happens with everybody, it's just you judge real fast just on the straight basicness of it but if you just listen to the music, it changes the whole perspective on it. I've run into a couple of little situations but really it's been good. I don't mind.
GG: But you're not Eminem and you're not Asher Roth. People say there can only be room for one white rapper in the game but you're not just rapping so where does that place you?
O: I've heard that before but I guess it's different. I think this places me in my own category, kind of like in an eclectic category. I'll probably be seen with different types of artists. It's funny to think about because I never really put things in color perspective before until now. I've heard that there only can be one white rapper in the game right now and I just think that's really foolish. I think there's enough room for everybody. There's room for everybody. If you work hard enough and your music is good, you're gonna get your shine. Whoever gives you that shine is whoever gives you that shine. I'm not Eminem nor Asher Roth but I think they're both dope and we all can co-exist.
GG: Are you gonna put out a new project soon?
O: Yeah. There's a couple ideas. I don't know exactly what the deal is but all I know is I'm gonna keep recording and we'll figure it out. But for now I'm working on my first album. That's the plan.
GG: With Radio New York, you used that to get yourself some leverage. What do you plan to do with your first official album?
O: I'd like it to reach a much bigger audience as a commercial release. I'd like it to be almost worldwide and have a chance for everybody to hear it.
GG: Are there any artists would you like to work with?
O: I reached out to a few new comers like Blu and UNI, and then I'd like to work with J Davey because they're dope. And when I blow up major I think a record with Alicia Keys would be super ill, but for now, up coming artists like that are pretty dope. I'm not a big collabo guy though so it's just another step in the maturation for me to reach out to people. I'm selfish. I feel like I'm a one man collabo because I can sing and rap.
GG: For the last part of the interview, I want you to fill in the blanks. I love gangstarr girls because…
O: …I like a woman with a mind of her own, strong, sexy and beautiful, and able to put me in my place once in a while [laughs].
GG: Bamboo earrings are…
O: …A very sexy accessory, sometimes. It just depends on the earrings.
GG: Chicks in kicks is…
O: …Super fly. I'm really into sneakers, my Adidas collection is crazy!
GG: On the flipside, chicks in stilettos are…
O: …Even sexier. That's the grown side. That's for when we're going out.
S: I am Outasight because…
O: …You stumped me—because you can't catch me in one place for too long.
Category: Interviews, Music, News, Videos
Starrene Rhett Rocque is a recovering journalist who often fantasizes about becoming a shotgun-toting B-movie heroine.