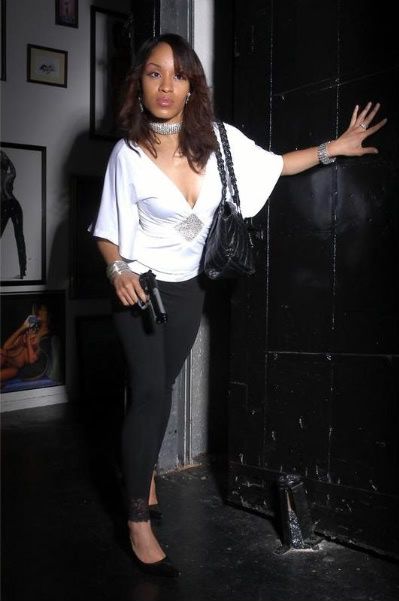 Gritty Pretty Thangs
Words by Gangstarr Girl
Never trust a pretty face and smile. The rapper La Femme NIKITA is just as gully as Luc Besson's spy/assassin from the 1990 French action flick turned U.S. crossover phenomenon.
Before giving in to her rapper persona, 21-year-old Natasha Walton was a songbird who became a finalist on season one of Making the Band 3. As fate would have it, she obviously didn't become a member of Danity Kane (thank goodness) but that hasn't stopped her from continuing to pursue her dreams.
Raised in Texarkana, TX, she was always singing but added rapping to her repertoire at age 13.
"I remember hanging around my older brother and cousin, and wanting to be just like them. I wanted to be like the guys," says NIKITA. "I wrote my first rap trying to impress them [and] they wer like, "little girl get out of here!"
Raised by her "big momma" aka "Shotgun Anni," who told her she could do anything she put her mind to, quitting wasn't in her blood and that's why she never put down her rhyme book. With a recent appearance on Bet's Rap City, and her latest single "Patrón" currently receiving airplay on 92.3 FM KIIZ (Waco, TX), Power 102 (EL PASO, TX), Q93.3 (New Orleans), 92.1FM The Beat (Tulsa OK) and in the general Texarkana area, this lyrical Femme Fatale is spitting, grinding and being as gangstarr as her name–with a voice to match. NIKITA charges the mic with estrogen but with bass in her voice à  la Rah Digga circa '98. Gangstarr Girl caught up with the young diva who broke down various topics pertaining to her world.
What's in a Name
"La Femme NIKITA is my alter ego to Natasha Walton. It's my code name. My label mate [from She Records] and manager were calling me that when I came to New York [for Making the Band auditions] and it just stuck. After seeing the flick, I got it. It's like you don't know what to expect. [People] automatically put me in the pretty girl, model or singer category but don't realize I'm a lyrical assassin."
Sounds Like
"Artistictly it would be like going out on a date with Tupac to a nice Blues & Jazz lounge to talk about Lil Wayne, Lauryn Hill, & Mary J. Blige–maybe even trade verses from UGK's 'Ridin' Dirty' and Master P's 'Ice Cream Man.'"
Musical Influences
"Tupac, Notorious B.I.G., Jay-Z, Nas, Snoop, Pimp C, Bun B, Scarface, Lauryn Hill, Mary J. Blige, Eve, Lil Wayne, Young Jeezy, etc. It's so many [but] pretty much the ones that are constantly putting out good music!"
Female Emcees
"They are here [but they're] not getting the exposure they deserve, especially the real female emcees! I've noticed that some of the female emcees on the come up subject themselves to being disrespected [and] once you present yourself that way, you lose. You lose respect from others, and most importantly respect for yourself. Having the opportunity to be put in a position were you can become a role model, you want to be a positive one to where that little teenage girl's mom surprises her daughter with your CD on her birthday. In the hood, there's a lot of misguided young girls who think in order to get attention they have to dress skimpy, allow men to disrespect them with the name calling, or feel like they have to present themselves as objects. These girls think it's good attention, just like some of the female emcees. [People are getting] tired of gimmicks, and the over exploitation of sexuality [and] females trying too hard. [With me], like it or not, you're just not going to hear from La Femme NIKITA about how fat her vagina is, and I'm definitely not about sweating no niguh for cheating. Call me Hillary Rodham, I'm bout money, power and respect! Those Bills can have their Monicas!"
Making the Band 3
"It was a great experience! Back at the audition, I thought it was just about singing and I nailed that part. When they flew me to New York City for the finals, that's when I realized it's not just about singing, you got to give it. I learned a lot about the business and it helped me break out of my little naive world. Even though I wasn't the right choice for the group it opened a lot of doors and I made lots of connections. Looking back, I'm glad I didn't get picked for the group [because] I'm better as a solo artist [and] I think Diddy knew that too. I made a few industry connects while staying in New York City and they were saying the same thing."
Signature Voice
"This is my god given voice fo' sho! I know it's deep, and not too many other females sound like this except Rah Digga. I have even been told my shit's deeper than hers [laughs], resulting in niguhs saying I sound like Jay-Z or some shit [laughs]. I just laugh at it, my voice is just deep I guess. I got teased about that too growing up [and] even now. I just got this whole tomboyish thing goin' on so when I spit naturally getting aggressive, it really gets deep. I was just born like that [laughs]. It's what makes me unique. Some of the biggest stars have a similar unique trait like with Eminem, who knew a White boy would be one of the best today in hip hop, or Snoop when he came out tall skinny wit that little voice."
Books and Covers
"I have been told by men and women that they do get intimidated. I have had men tell me that I look like the nose in the air type so they are hesitant to approach me [and with] Women, the same. I just recently had an experience in New York City with a magazine editor. My manager and I were in the waiting room waiting for the editor, and a young lady walks in. My manager introduces us and we began to talk. First, she hit me with the question 'Are you one of the models?' [laughs]. I said no and we continued to talk. About midway into the conversation she interrupts me and says, 'I'm sorry, you have such a humble spirit, and you're so down to earth. I had a totally different idea about you just judging you right off.' She did say she was hesitant to speak, and apologized."
Label Situation
"I signed with the indie label She Records [and they've] been supporting me well. I stay with some family in New Jersey and they hook me up with an allowance and a phone. I pretty much get money from independent album sales and ringtones. It's not much, but the check is just like working a part time job in New York, except I have more time to record and promote."
The Deal
"I have been talking to A&R's at Universal Motown and Atlantic Records [and] I'm also in the works with maybe doing something for Mac makeup and a few other companies. Keep your fingers crossed! I have my lawyers looking over contracts now."
Mad Props
"I also have been blessed with doing features which I get payed for! It's funny because artists have been hitting me up on MySpace for collabs asking me how much do I charge [and] I was like 'wow.' I told my manager, and he said that's because the artist recognize talent and see that I'm going places. So, I look at it like being an independent artist–we have our own network. The majors have their own too. So, instead of getting Lil Wayne to feature on a record like a major would, they would seek an independent artist who is doing his/ her thing [instead]. I'm more affordable to an independent artist's. budget."
Duly Noted
"I did a song with Capitol Records' Bossaliny called 'That's My Boy,' produced by Don Vito (Jagged Edge "Good Luck Charm" & Cherish "Do It To It"). I also did a callabo with DJ Kay Slay's artist Hedonis Da Amazon, and Kool G. Rap's wife Ma Barker on a song titled 'Shake' by R&B singer Santalina. I just made a cameo appearance in So So Def/ Triple P recording artist Cino's music video for his song titled 'Thang Thang.' I also dropped an exclusive track with DJ G Spot who's with Shadyville DJ's KJamz 105.3 and Shade 45 on Sirius [satellite radio]."
"The singles I'm most known for are 'Ain't Nuthin' and 'Bobblehead.' Those songs can be found on my debut independent album titled nom de code: NIKITA! 'Ain't Nuthin' took off, and it was just an experiment. My hood loved the song [and] people were downloading the song like crazy. When I shot the music video it was like a screen test but it flew. The director sent it to BET and they aired it on Rap City for a minute. Now it can be seen on BET.com. It has over 70,000 views to date on YouTube right now. Just search 'La Femme NIKITA + Ain't Nuthin.'"
Award Tour
"I was fortunate to do shows and perform along side Atlantic recording artist Deemi & Wynter Gordon, Both on separate occasions. Deemi is an incredible artist, I love her stuff. She had a song out titled 'Soundtrack of My Life,' that girl can sing! [and] Wynter Gordon is a fantastic Pop/ R&B singer signed with Atlantic, who I performed in front of a studio audience with on a show BET was piloting called Tonight's the Night. I also was booked to open up for Adina Howard, and Cognac from Snoop Dogg's rap group 'Doggy's Angels' in Washington, DC at club Felix. It was a great experience, and I enjoyed choppin' it up with them."
On the Horizon
"Right now, I'm working on my next independent album titled FLOSSIN I'll be dropping the single soon, along with a street LP titled American Gangstress. I'm also in the studio working on some R&B. Be on the look out for Natasha Walton!"
Gangstarr Girl Steelo
"Women can relate because my vibe is like most women! As women, we go through alot–struggles with insecurities, strength, and obtaining respect in the male dominating work world. I've been through it all, and still go through. If you listen to the songs on my independent album nom de code: NIKITA I have songs dedicated to female empowerment like 'Sally Walker,' or you can catch a song talking about a relationship of mine in the past that I'm sure most women can relate to, like on 'My Everything.' I even have a song dedicated to my Big Momma titled 'Big Momma' talking about life and giving that feeling like "wow I love you grandma!' Both men and women can relate. I don't know anybody who wasn't raised by their grandmother, or had their grandmother play a major role in their development."
"I think men relate to my whole steelo because I'm just an around the way girl–nothing fake about me. In some cases it's like kickin' it with your sister, cousin, auntie, etc. That's how you feel when you're listening to my music, watching me perform, or reading interviews. I try to always just be me, that down ass bitch [laughs]. Plus, I had one guy say 'Your voice–it's weird–I ain't gay but it almost sounds like I'm talkin' to my nigga' [laughs]. He continued to say, 'When I listen to your songs, I can tolerate it and have it on repeat, whereas other female rappers with that high pitched squeaky voice shit gets annoying, and after a while it starts to sound like a nagging girlfriend who just won't shut up' [laughs]. I thought that was cool to say. Once I went on a house date for dinner and he rented a movie. I think is was Pearl Harbor-you know–a romance movie. My head was bobbin' left, right, forward, backward [laughs] and he was like 'Damn, you fallin' asleep?" I was like, I'm sorry, I appreciate the gesture but I'm not a girly girl for romantic movies. He should have rented Menace II Society or something like that. Kane! Get your ass in the house! Break yo' self [laughs]. I'm a mess!"
Fuck Wit' It
"I hustle and flow ya dig!? It's nothing but originality from ya guh. I got music all walks of life can fuck with. From the poorest of hoods to the richest of suburbs, I got something for all of ya'll! Throw me in your disc changer [and] you're going to hear quality hip-hop."
Category: Emcees, Hip-Hop, Interviews, Music
Starrene Rhett Rocque is a recovering journalist who often fantasizes about becoming a shotgun-toting B-movie heroine.