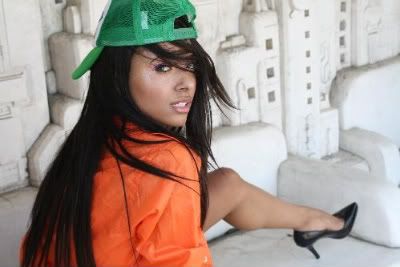 Pearl Bailey, Dorothy Dandridge, Lena Horne and Diahann Carroll were pioneering women in entertainment history who turned every creative project they touched into silver. They were beautiful, elegant and known for being triple threats—singing, dancing and acting with all their hearts and souls. Their ambition, charisma and charm gained followers worldwide, and created legacies that will never be forgotten. But in today's entertainment world, divas are known for being mired in controversy, meaning, they tend to become famous for being party girls who clutter tabloid pages with drunken and drugged debauchery. However, 19-year-old starlet Katerina Graham is a beacon of light amidst the gloomy backdrop.
"I'm trying to have old fashion values about the way I approach my career," muses Graham. "I hope I can be a good role model because there's not that many positive young female stars out there."
Born in Geneva, Switzerland to a Liberian father and a Jewish-Russian mother Graham relocated to Hollywood with her mom when her parents split by age six. From there, she started appearing in commercials thus, her passion for entertaining was born, and she is now on the road to taking over the entertainment world one craft at a time.
"You have to do it all, you have to sing dance and act," affirms Graham passionately. "I want everything I can get acting-wise, and in my career overall. I will go for all the roles I can because there's not enough roles for Black actresses and hopefully one day, after I do my music and after I've done a few more acting projects, I can write some scripts and cast more African-American women."
Ambitious and energetic, Graham was an avid student of the arts studying dance, piano, acting and vocal training. By age 14, her hard work paid off when she replaced Christina Milian as the host of the Disney channel's Movie Surfers. The following year, she was chosen by renowned choreographer Fatima to perform at the BET Awards as a back up dancer for Bow Wow—a stint that led to dancing for Missy Elliott and Pharrell. Being exposed to hip-hop awakened Graham's inner b-girl, igniting passion to pursue her own music career, in addition to flexing her thespian chops.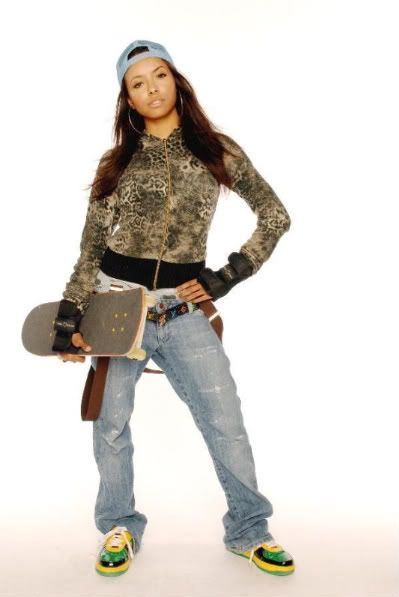 She balanced her acting—making appearances on CSI: Las Vegas, Joan of Arcadia, Hannah Montana, Malcolm in the Middle and various music videos including, John Legend's "Used to Love U" and Musiq Soulchild's "Buddy" —with teaching herself how to produce (on equipment she purchased). Consumed by performing and learning the technical ins and outs of music efficiently, she also juggled obtaining a recording engineering degree with a two-year stint as "Capri," the red Fanta girl. Describing herself as an impatient person, she credits her do-it-yourself philosophy to other renaissance women.
"I definitely want to be like Sheila E," says Graham about the musical inspiration she drew from recently seeing Krush Groove for the first time. "[Sheila E.] produces, plays guitar, drums, sings and she plays the keys. She is the female that I aspire to [be like]."
Once Graham created music that she was proud of, she sent some of her tunes to hip-hop super producer and friend Will.i.am. The Black Eyed Peas beatsmith was so impressed with KG—as she is often called for short—that he offered her a guest spot, singing the hook on the original version of "I Got it From My Mama," a single from his 2007 solo disc, Songs About Girls.
Now in full effect, KG is working on her debut album due out this summer. Tentatively self-titled, her penchant for throwback 80s flare is captured in her style of dress as well as her playful, sing-songy lyrics. The lead single, "My Boyfriend's Back," produced by The Interns (Mims "Move") is a girl power anthem sampling the 1963 hit by The Angles—but also channeling Roxanne Shante and L'Trimm, about kicking a deadbeat man to the curb.
"[The song] may come in a pink fluffy little package," warns KG, "but at the end of the day, if you need to leave, you need to have respect for yourself and just get out of there."
Her message for self-respect transitions beyond her music. It takes a true gangstarr girl to balance several crafts effectively, and with numerous film projects slated for release this year—including a Chris Stokes dance film titled Boogie Town, and 17 Again along side Zac Efron and Matthew Perry (in theatres Friday)—KG displays there is no task she cannot set her mind to and execute successfully.
"I'm about being strong and making moves," says KG. "I do my own thing [and] I want to pioneer that for young girls because there hasn't really been a young woman in the media like that in a while. I'm a one woman band [and] I'm all about girl power,"
Spoken like a true Jane of all trades, it looks like Katerina Graham is poised to master the universe.
KG's Myspace
*UPDATE* You can now catch Katerina Graham in The Vampire Diaries every Thursday at 8 on the CW.
Category: Interviews, Music, TV/Film
Starrene Rhett Rocque is a recovering journalist who often fantasizes about becoming a shotgun-toting B-movie heroine.