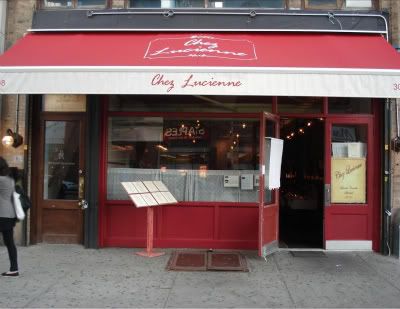 Chez Lucienne
308 Malcolm X Blvd (Lenox Ave)
Between 125th and 126th Street
Price Range: $$$ (out of 5)
Rating: 4/5
I've been wanting to visit Paris for years but you can't do that with no money (womp womp). However, my blog affiliate Kitty Bradshaw invited me to a nice dinner on Tuesday–specifically set up for bloggers–in the heart of France…kind of.
We dined at Chez Lucienne, which is located in Harlem. Yep, Harlem (it's a different world there than it used to be folks). Chez Lucienne is a French Bistro nestled between 125th and 126th streets and Lennox Ave. I always used to walk past, curious about what was going on inside because it seemed out of place but after checking it out, I will definitely go back. It's a dimly lit cozy space that's perfect for a romantic date, dinner party or simply unwinding after work. I joined bloggers and social media afficionados, Stevie NYC, Michael Street of Greasy Guide, Nikita Banks of The Single Girl's Guide to Men, Monique from Suite October, Rae Holliday of Stuff Fly People Like, Phaon from Luxurious Prototype, Billy Ye and "P0ps" from J & R Music World digital for a complimentary appetizer, entree and desert.
The food was good, the owners (who are French and live in the neighborhood) were very nice and the service was really good. Plus, the waiters and bartenders were very interactive and accommodating without being obsequious (they didn't even know what we were there for). Here's what I had:
French Onion Soup


Honestly, the onion soup was just OK. It wasn't bad but if I could do it over, I'd order a different appetizer. I heard their quiche was really good.
Wild Atlantic Salmon and Endives


No complaints. It was good.
Chocolate Cake With Pistachio Ice Cream


Dessert was my favorite meal! This is the best chocolate cake I've had in a while (and I'm a super chocolate fiend).
Other Dishes: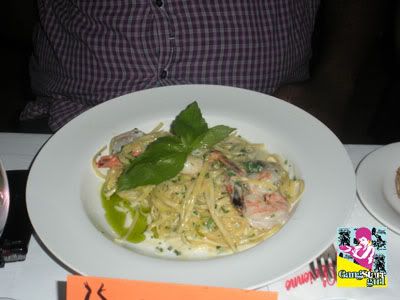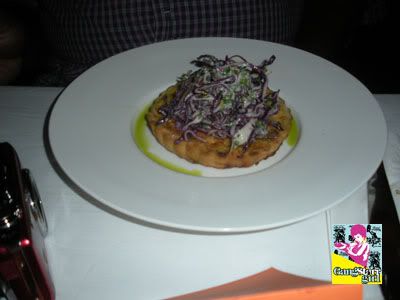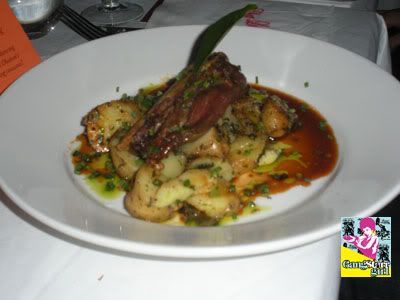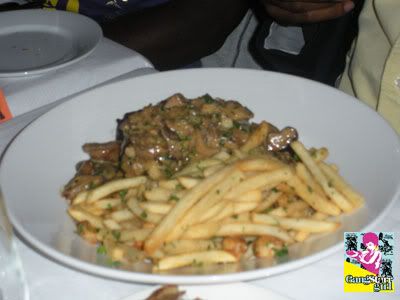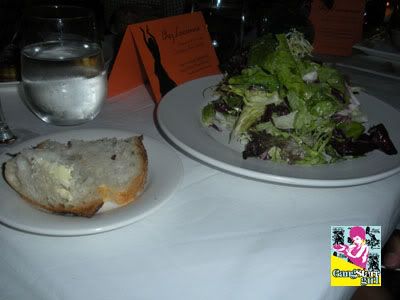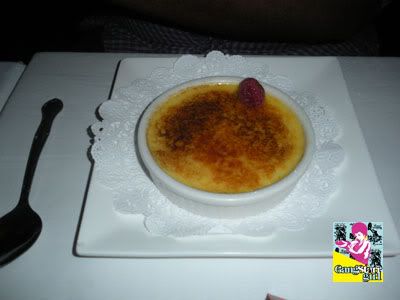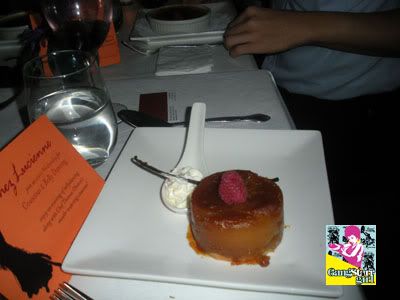 Merriment:
Rae

Kitty and Mike Street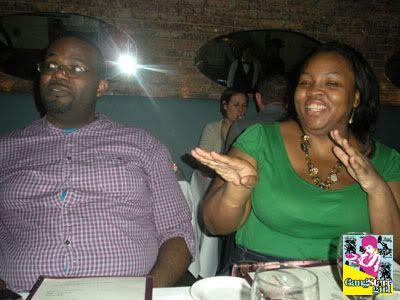 The cool waiter whose name I can't remember.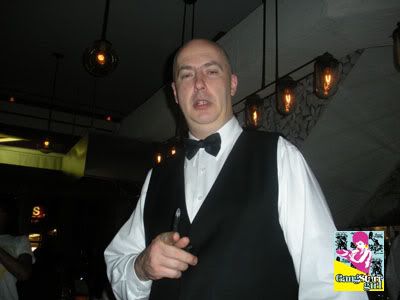 He was Belgian but fluent in French. I got a kick out of him calling me "madamoiselle."
Pics I Snatched From Mike Street:
Monique and I goofing with the waiter.

Stevie NYC!

Nikita (Single Girl Guide)

Decisions, decisions (Billy Ye is on the far left).

Chez Lucienne also has live music ranging from jazz to funk on certain nights, Sunday brunch–which I heard was really good (some of the bloggers had been there before)–and what I'm looking forward to going back for is cous cous and live belly dancing on Wednesdays. For more information on Chez Lucienne, check out www.ChezLucienne.com.
Special thanks to Phillip Ruskin.
Starrene Rhett Rocque is a recovering journalist who often fantasizes about becoming a shotgun-toting B-movie heroine.