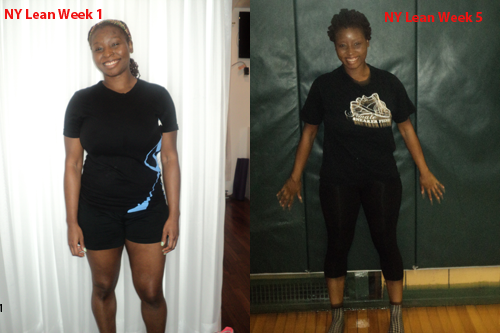 I've completed 5 weeks of NY Lean and it changed my life. Before NY Lean, I'd go to some "ultimate conditioning" class at my gym and I'd do those Insanity workouts but the ultimate conditioning class is child's play compared to NY Lean and the Insanity workouts are cool but I always turn them off half way through because they're long and with no one in my living room to motivate me, when I'm done I'm done. However, with NY Lean, you get the benefits of interval training in 25 minute classes and with extreme intensity and the same results as the popular DVDs or that you would get working privately with a trainer for months. Hit the jump for my over all results.
I started trying to lose the 30 lbs I packed on over the last three years in February. By the time I started NY Lean on April 1, I was at a plateau (my body adapts quickly to diet and various workout regimens). I lost three lbs, in my first week of NY Lean and then go stuck again but by week 5 (the last week), I was down about 9 lbs total for the whole program. I also lost two inches around my waist and 4% body fat, which according to two of the NY Lean instructors is a huge deal (I'm not sure if you can tell by those pics since the clothes I'm wearing in both pics are so loose). They were so excited when they saw that, as was I. I also lost an inch around my biceps and a half an inch around my hips. My thighs didn't go anywhere lol, but I'm happy over all.
I've been getting compliments on my arms left and right, people are noticing that I'm shrinking and my clothes fit again (and in some cases they don't fit because I'm too small). The number on the scale still annoys me ( I have at least 10 more lbs to lose) but I'm trying to break myself out of focusing on the number because I know optimal health more about body fat percentage and gaining muscle, which I did.
In short, I am an NY Lean 25 believer and will continue the program whenever I can. Hit up @NYLean25 on Twitter for more details.
Category: Health/Fitness
Starrene Rhett Rocque is a recovering journalist who often fantasizes about becoming a shotgun-toting B-movie heroine.