Come out this Saturday (December 10) to party with RARE by F.S. Charlie for their one year anniversary and TOYS FOR TOTS
toy drive campaign. That's a two in one deal! You get to party and help some children have a good holiday.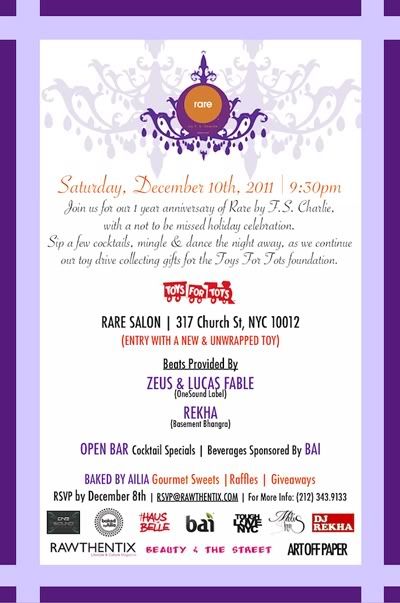 Door Entry is a new and unwrapped toy or donation of $10.00
The studio will be transformed for the night with specialty lighting and decor, artwork by ART OFF PAPER. Get your dose of
classic, jazzy house & world beats provided by DJs ZEUS & LUCAS FABLE of OneSound Label and REKHA.Treat yourself to a sponsored open bar all night featuring specialty cocktails and anti-oxident drinks by BAI BEVERAGES.
There will also be gourmet cupcakes made by BAKED BY AILIA available as well as his and hers gift basket raffles and giveaways courtesy Art Off Paper, Beauty & The Street, Haus Of Belle, Tough Love, Melis & Keo, OneSound & the original
frozen chocolate Serendipity.
PARTY DETAILS (in case you can't see the flyer):
DATE: Saturday, December 10th
TIME: Begins 9:30PM
LOCATION: RARE by F.S. Charlie | 317 Church Street, 10012
ATTIRE: Casual Chic & Stylish
RSVP: YOU MUST CONFIRM ATTENDANCE BY DECEMBER 8th.
Email: RSVP@RAWTHENTIX.COM (Please advise if bringing guests & amount)
Category: Events
Starrene Rhett Rocque is a recovering journalist who often fantasizes about becoming a shotgun-toting B-movie heroine.