Last week I was invited to attend Kitty Bradshaw's Meet 'N Tweet, which was a gifting suite where bloggers were treated to product galore and got to mingle with other bloggers and brands. The gift bags were insane! I got so much good stuff that I didn't want to post everything at once because that would be sensory overload, so I chose my favorite products first.
You saw that pic I posted right before the jump, right? Sure, you did. That would be yours truly rocking Hanes Silk reflections. I've been a tights and pantyhose fanatic ever since my first ballet class at 5-years-old. However, since tutus and teddy bears I've evolved into a more fashionable woman (so I'd like to think) so these days I'm picky about the hosiery I wear.
Don't you hate when you wear tights and you can't be free because either they keep sagging–even if you bought your correct size–or you're afraid of moving around like a normal human being because you might get a run? Yeah, I hate that too, that's why I'm a Hanes convert. This particular pair is thick enough to keep me warm in NYC's brisk weather but thin enough to still show off my sexy legs and be stylish. Best of all, you could probably tumble down a flight of stairs while wearing these (hopefully not, but I'm just saying), scrape the cement and still not get a run. For. The. Win. They retail for about $10.00 so you can either gift that special lady with a few pairs of these or hook yourself up! If opaque isn't your bag, Hanes has tons of other run resistant styles to choose from.
My next favorite item from the gifting suite was CND's Plum Truffle holiday collection.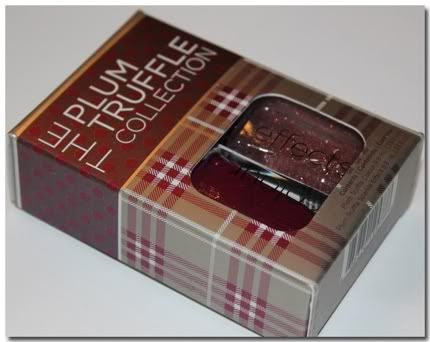 The colors include "Cool Opaque" (right), a deep purplish wine color (that I love), and "Cool Sheer," a shimmery mauve-ish color that looks good alone or on top of the cool opaque. This is the cool opaque:
I got a lot of compliments on it. I haven't tried the sparkle yet but I did a quick swatch (not pictured) and it looks really pretty. It's perfect for the holiday season so that would be another cool idea for a stocking stuffer or gift for yourself.
For more information about the brands featured here check them out on twitter @HanesHosiery and @CNDWorld.
Special thanks to @KittyBradshaw for inviting me out.
Category: Makeup/Beauty
Starrene Rhett Rocque is a recovering journalist who often fantasizes about becoming a shotgun-toting B-movie heroine.