I'm a product junky, so I was thrilled when I was invited to check out some holiday goodies from the The Body Shop. The picture above displays some of their newest makeup products. It's lip gloss, a gold smokey eye kit, a black smokey eye kit and glitter. And if you continue past the jump…
Behold "Candied Ginger" body wash and "Spiced Vanilla" body scrub. These products are amazing! They make the perfect stocking stuffers or self-indulgences. The Candied Ginger really smells like Candied Ginger. A lot of body washes smell artificial so this speaks volumes to the fact that The Body Shop likes to keep their ingredients as pure as possible. So, if you're a fan of ginger candy like I am, this is right up your alley. The Spiced Vanilla scrub has a pleasant smell as well. Then again who doesn't like vanilla?
As far as the makeup…
I got some swatches for you!
Gold Smokey Eye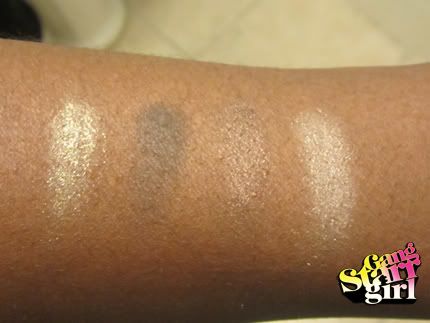 This is beautiful for a natural but shimmery smokey eye effect.
For when you want to be more dramatic.
Be careful, the bottle that contains this stuff is like a shotgun! Pump with caution. I'm weird about wearing glitter on my face if it's not in a shimmery eyeshadow because my skin gets oily fast and you know…oil x glitter = no bueno. However, a cool tip I picked up was that if you keep the glitter restricted to that space between your temples and the corner of your eye then you should be fine because that area is least likely to get greasy.
What are you waiting for? Head over to The Body Shop and get to shopping!!!
Category: Makeup/Beauty
Starrene Rhett Rocque is a recovering journalist who often fantasizes about becoming a shotgun-toting B-movie heroine.